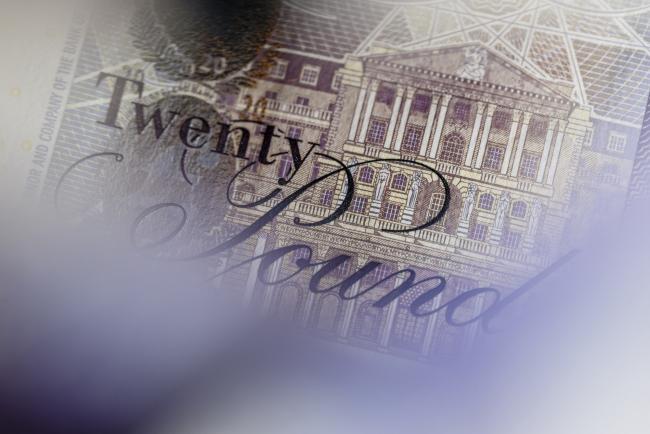 © Bloomberg. An engraving showing the headquarters of the Bank of England is seen on a British twenty pound banknote, in this arranged photograph in London, U.K., on Thursday, Oct. 13, 2016. The U.K. currency is getting harder to trade, and to predict, because the nation's exit from the European Union has changed the rules of engagement.
(Bloomberg) — The pound was set to halt a three-week decline, while U.K. government bonds slumped as the latest update on the Brexit talks indicated there was still room for agreement by December.
Sterling climbed to its highest since last week's Bank of England interest-rate increase after Brexit secretary David Davis and his European Union counterpart Michel Barnier said they would work with the goal of moving talks on to trade next month. The currency was also supported on Friday by better-than-forecast industrial data, and an estimate from the National Institute of Economic and Social Research that suggested economic growth had accelerated in October. Benchmark 10-year gilt yields rose to the highest in a week.
With the negotiations between Britain and the EU previously described as deadlocked, traders were relieved that Friday's comments from Davis and Barnier appeared less negative than feared, according to ING Groep (AS:INGA) NV currency strategist Viraj Patel.
"Negativity is now embedded into these talks, it's the norm," Patel said. "Maybe the two-week deadline gives some people a glimmer of hope that we get the answer to the big 'deal or no deal' question."
With time running out to resolve differences over the U.K.'s exit bill before a crucial December summit, the Financial Times reported on Thursday that Britain was prepared to put forward a higher offer. While the U.K.'s Davis said on Friday that the talks were making progress, he added that the financial settlement still needed to be worked on.
The pound rose 0.6 percent to $1.3218 as of 4:03 p.m. in London, taking its weekly gain to 1.1 percent. Sterling strengthened 0.4 percent to 88.23 pence per euro. The yield on U.K. 10-year gilts rose seven basis points to 1.34 percent, the highest level since Nov. 2.
(Adds government bonds' move in lede and second paragraph and updates prices.)
sponsoredArticle = 'div-gpt-ad-1466339494851-0';