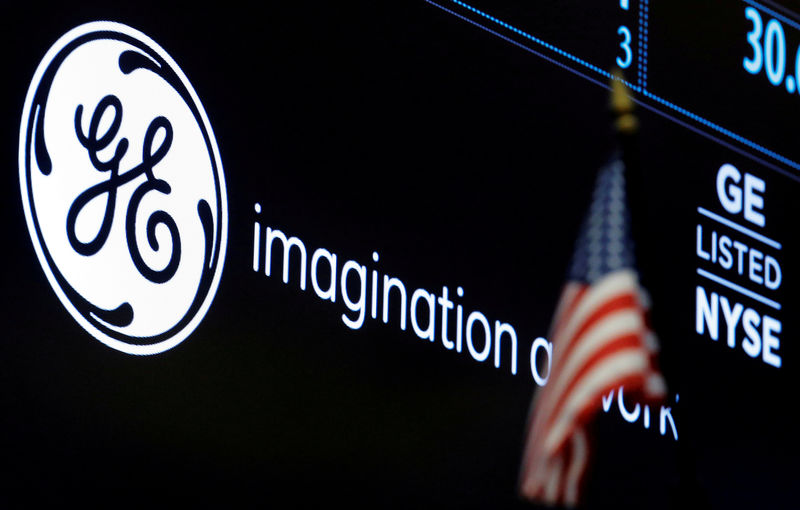 © Reuters. FILE PHOTO: The ticker and logo for General Electric Co. is displayed on a screen at the post where it's traded on the floor of the NYSE
By Alwyn Scott and Ankit Ajmera
(Reuters) – General Electric Co (N:GE) said on Monday it would chop its quarterly dividend in half, as part of an overhaul of the company that new Chief Executive John Flannery is due to roll out later in the day.
GE said it would cut the dividend to 12 cents per share from 24 cents, starting in December. This is the third time in its 125-year history that GE has cut its dividend. The other two cuts came during the Great Depression and the 2009 financial crisis.
The move, widely expected after GE's cash flow deteriorated this year, is expected to save about $4 billion in cash annually.
GE's shares were up 2.3 percent at $20.96 in premarket trading. The stock is the worst performing Dow component this year, down 35 percent through Friday's close.
"We are focused on driving total shareholder return and believe this is the right decision to align our dividend payout to cash flow generation," Flannery said in a statement.
Flannery plans to disclose a roadmap for the company on Monday that will focus on three of its biggest business lines – aviation, power and healthcare, the Wall Street Journal reported earlier in the day, citing a person familiar with the matter.
The report also said the plan stopped short of a breakup or more radical restructuring of the company, but Flannery will look to exit most of its other operations. (http://on.wsj.com/2jnKS2F)
Reuters reported in October, citing sources, that GE was exploring divesting its transportation and healthcare information technology businesses, as part of a plan to shed more than $20 billion worth of assets. (http://reut.rs/2yWkm6m)
Flannery's strategy would mark a turning point for the company, which over several decades built a sprawling conglomerate with interests across media, energy, banking, aviation, railroads, marine engines and chemicals.
The move to make GE nimbler, and focus on just three main industries where it commands leading market share, would be a complete turnaround from the previous multi-business approach taken by former CEOs Jack Welch and Jeff Immelt.
Flannery's changes also repudiates much of Immelt's vision of a "digital industrial" company that builds software to manage and optimize GE's jet engines, power plants, locomotives and other products.
sponsoredArticle = 'div-gpt-ad-1466339494851-0';